Dennis will keep you busy with it's charming shops, beautiful beaches and fun outdoor adventures, and numerous art galleries.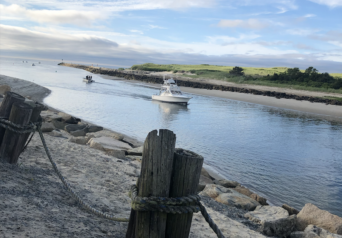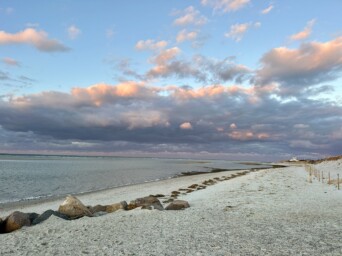 DENNIS has much to explore from Main St. on the north side to the south side village of Dennisport.
Follow 6A through the heart of Dennis to find adorable shops, tried and true eateries and some of the Cape's best beaches. Grab a coffee at Underground Bakery or the Village Coffee Shop before engaging in retail therapy at Elburne, Surge, Salt Yarn Studio, Seaside Design Studio, Linda Burke, Ross Coppelman and Littlenecks for the kiddos. Take a much needed break for beverages sustenance at Scargo Cafe or Chapin's Bayside or hit The Mercantile and Dennis Public Market to stock up and chow down. Don't forget produce and fresh flowers at Cape Abilities Farm.
Nestled just off Main Street, you can find the Cape Cod Museum of Art and Cape Cinema- a historic theater that shows independent films and hosts community events. Not to be missed in the area is Harvest Gallery, a great spot for wine, mocktails and local music. Dinner destinations like The Pheasant and Fin are sure to please. Top it off with a cone from The Ice Cream Smuggler or a pre-ordered sweet treat from the Corner of Yum.
For a relaxing afternoon, visit West Dennis Beach, Corporation Beach, Nobscussett Beach or Mayflower Beach to watch the sunset. Crowes Pasture Conservation Area and Scargo Beach are both great options for nature lovers.
Enjoy a Kolsch at Devil's Purse Brewing on your way south to Dennisport. For tummy grumbles, stop at Capt. Baker Donut Shop, Three Fin's Coffee Roasters, Holly's Deli, Buckies Biscotti, Good Friends Cafe, The Dog House or La Tacodilla (don't miss the Lune tasting menu pop-ups). If you're feeling adventurous, rent a kayak or paddleboard from Bass River Kayaks and Paddle Boards or Cape Cod Waterways Boat Rentals on Swan River. Treat yourself to a tasty libation at Cleat and Anchor, Southside Cantina, Chapin's Fish & Chips Beach Bar, or Clancy's. Shop to your heart's delight at Fresh Interiors, Mermaids on Cape Cod, LeBelle's General Store, and Matt's Organic Gardens for all things fresh and seasonal.
Related articles