Fests
What is the Love Local Fest?
Experience our mission in action.
Celebrate with the community.
Support the local economy.
Connect with Cape Codders.
Upcoming Love Local Fest Season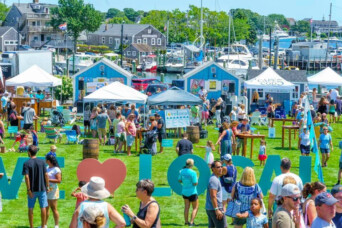 What's it all about?
Love Live Local's Love Local Fests are events where people gather and to show their support for the local business community.

The Fests occur the last Sunday in July and September and the first weekend in December. Each event is free and open to the public and features the work of about 100 Cape Cod makers, artisans, artists, farmers and local businesses, along with local entertainment and opportunities to connect with the community.

Frequently Asked Questions
The July and September events are located at Aselton Park, which is located at the crossroads of South and Ocean Streets overlooking the Hyannis Harbor.


The weather on Cape Cod is hard to predict, so we encourage people to keep an eye on the local forecast and dress appropriately - and if you catch a chill, you can be sure to find a cute sweatshirt at one of our local vendors. Also, Aselton Park does not offer much shade, so make sure you pack a hat and sunscreen! And keep in mind, unless there is extreme weather, the event is rain or shine.

It is free to come to the event and you are invited to spend the day listening to music and enjoying other activities. If you've got a few dollars burning a hole in your pocket, be sure to shop with our local makers and brands at the event. Also, we are a small nonprofit who spend countless hours putting these events together and will happily accept any support you might want to give!

Local food trucks and vendors will be offering everything from seafood, burgers (including a veggie option!) and wraps to coffee, cookies and ice cream pops. You are also invited to pack a picnic or head to one of the great restaurants in the downtown Hyannis area before or after the Fest!

Sorry! There is no seating at the park, so we encourage people to bring a blanket or some beach chairs to post up for the day of listening to live local music, sipping craft beverages and shopping the local makers and brands.

You know it! Not only do we have lawn games for them to play, but the Cape Cod Maritime Museum is also hosting activities for all ages on their back patio. Learn how to write your name in signal flags or try your hand in some cartography and try to create a map of the festival or the museum's patio. They will also have some microscopes so you can learn about what's living underneath the dock and in our water.

They sure are - as long as they are leashed and like to make friends with other pooches, dogs are most certainly welcome at the Fests.

Yes! You can shop the Fest online through our website where you will find a "booth" for each vendor set up for a month after each festival. You can also join our Love Local Fest dedicated Facebook group, where participating vendors will be posting new products, specials and sales for a month after the events too!