Amazon has a monopoly on online retail and is hurting small businesses. Consumers should shop directly from small businesses whenever possible.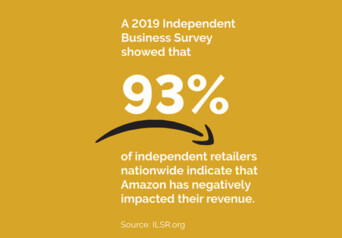 For most businesses small and large, there have been very few bright spots throughout this pandemic. The same cannot be said for Amazon.com. In fact, the even greater shift to online commerce meant that in the third quarter of 2020, Amazon's sales were up more than a third over the year before, with profits surpassing $6 billion. And the year and COVID-19 are not over yet.
It is pretty common knowledge that Amazon is now the company with the world's highest market value, headed by Jeff Bezos who has the world's largest fortune. There is also a growing sentiment that maybe the online behemoth doesn't need any more of your money, and perception that they are indeed responsible for the demise of many small (and not-so-small) brick and mortar businesses, and perhaps they are a monopoly that needs to be broken up.
Trying to make people forget about these realities may have been the motivation around a recent marketing campaign celebrating Amazon Storefronts and all of the small businesses they "support" through their third-part seller program.
But we call out local-washing when we see it.
Amazon touts 58% of the sales on their e-commerce platform are made by third-party sellers. Many of these sellers are big brands, but many of them are in fact small and medium sized businesses. On the surface that sounds good, right? Amazon provides a platform for mom and pop shops to reach customers and make money despite the worrying trends facing brick and mortar retail today.
Scratch beneath that surface and you will find that Amazon not only provides that selling platform, but they also control who sees your product and they compete with their own lines of products. And in order to be a successful seller on Amazon, you will have to not only give them a percentage of the sale itself, but also pay for advertising on the site in order to get in front of customers, and pay for their distribution services. Oh, and if you need any assistance from an Amazon representative, you'll have to pay for that too.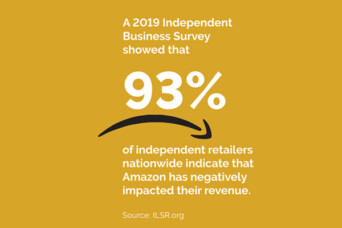 On any given sale, third party sellers are charged 25-50% of the list price, an amount that has increased every year. And forget about charging more for the product to make up for this additional expense than you would anywhere else, because you will get kicked off the platform altogether.
What's more, Amazon is also using the data collected from consumers on its site to identify lucrative and successful products that they will then create a version of under their own brand names. Guess which company's product will appear first in a browser's search results?
So, why do small businesses stay on the platform?
In short, they have very little other choice. Over 90% of Americans shop online and two-thirds of those people start their search on Amazon.com. According to Molson Hart, CEO of toy company and Amazon.com seller ViaHart, if his company were to leave Amazon "it would probably take 3–6 months before we'd be bankrupt. We are not alone. This is typical for small to medium sized businesses which sell online today. In fact, most companies like our own, would probably go bust even faster."
Amazon is not the scrappy start-up story of the Main Street bookstore or the local restaurant down the street. They obtained their share of the retail market via wall street investors and grew their business to this vast scale through tax avoidance, predatory business tactics, unsafe labor practices, and have since gained considerable economic and political power. This power is used to create an unfair playing field, engage in anti-competitive behavior, and crush the very small businesses their marketing campaign claims they are championing.
In a survey from the Institute for Local Self Reliance, 93% of independent retailers reported that Amazon's outsized power is hurting their business, and among those selling on Amazon's marketplace only 11% of them described their experience as successful. Bottom line: in the long run, they are not good for small business, which means they are not good for local communities.
But one of the few bright spots in this pandemic referenced earlier? Many small retailers have developed and fostered their own online presence in these past eight months, making it easier for consumers to shop online while also shopping local. So, if you do happen to find a product you want or need on Amazon from a third-party seller or an independent shop, think before you click, because chances are they have their own website where you can purchase it, ensuring they are making the most out of the sale as possible.
Related articles